0
Dzieci w programie wolontariackim
0
Uczestniczek Women in Tech Camp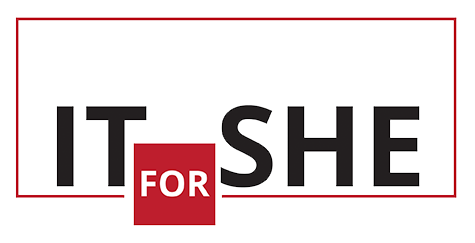 Tylko 13% studentów informatyki w Polsce to kobiety. w korporacjach technologicznych jest ich jeszcze mniej. Niedobór specjalistów z zakresu nowych technologii już teraz szacuje się w Polsce na 50 000, a w Europie, do roku 2020 niedobór ten wyniesie 1 milion. Wprowadzenie większej liczby kobiet na rynek pracy w informatyce może powiększyć europejski PKB o 9 miliardów Euro rocznie.
IT for SHE to program dla  dziewczyn pełnych pasji dla technologii, programowania i informatyki.
Został uznany za najlepsze działanie dla kobiet w technologiach w Europie i otrzymał od Komisji Europejskiej European Digital Skills Awards.
IDEA
The goal of the IT for SHE program is help for talented women studying IT in entering the job market. Its elements include: the biggest in Europe themed camp for young women in IT – Women in Tech Camp, a mentoring program at the best tech companies and a volunteering campaign in small towns to encourage children to learn programming and Women in Tech Days – an online event for high school graduate and students. In December 2020 Perspektywy Women in Tech Summit will be held – the biggest event for women in technologies in this part of the world.

Here we invite young women studying IT to apply in order to find support from mentors from leading tech companies. In cooperation with them you will develop your potential, programming and management knowledge, and also implement ambitious technology projects.
We have mentors from companies such as: Citi, Google, Accenture, Intel, Goldman Sachs, P&G, and RBS
Women in Tech Day to nowy segment programu IT for SHE kierowany do studentek i doktorantek kierunków technicznych i ścisłych, jego celem jest wsparcie w zakresie znalezienia i zdefiniowania ścieżki kariery młodych kobiet, jak i  wsparcie ich w wejściu na rynek pracy.
W ramach Women in Tech Day wspólnie z ekspertami z zaprzyjaźnionych firm technologicznych zorganizujemy na ponad 15 politechnikach i wydziałach ścisłych uniwersytetów wydarzenia podczas, których studentki i doktorantki będą mogły wziąć udział  warsztatach, techtalkach i klinice kariery.
IT for SHE is a volunteering program, where active young female IT students travel during the summer to small towns to teach programming and tech knowledge in schools. Its goal is increasing interest in the STEM (Science, Technology, Engineering, Mathematics) area among children, promoting women as technology experts and activating their social potential.
Together we will spark the love of new technologies!
Women in Tech Camp is a camp for the most talented female IT students from the Polish technical universities. This year we will have the 4th edition of Europe's biggest themed camp for girls in IT. The students receive a unique opportunity to study the secrets of advanced programming, to meet with exceptional mentors, and to plan their professional and personal paths in the tech industry. The girls will also create a network for inspiration and mutual support, which will be the base for the movement of exceptional women in IT.
We encourage all young women who want to create the future of new technologies to apply to the Women in Tech Camp!
The participation is free of charge.