The key to equality is building partnerships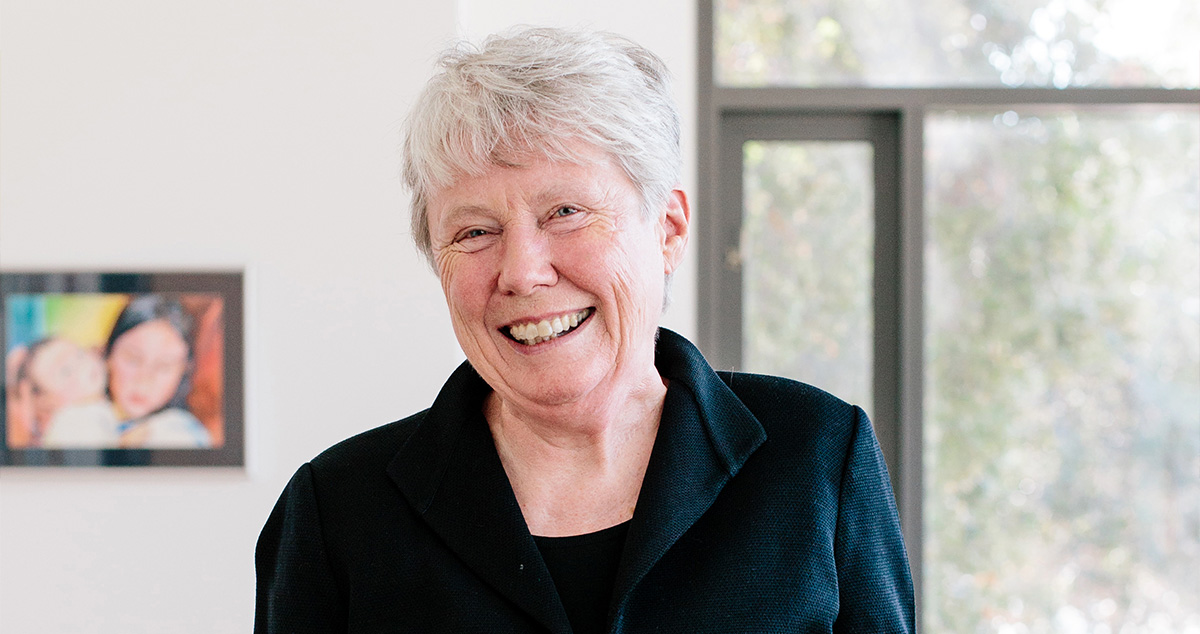 An interview with Maria Klawe, a mathematics and computer science researcher and the first female president of the U.S. Harvey Mudd College (HMC). It is thanks to her efforts that women make up 50 percent of STEM students at HMC, the only such figure in the academic world! Maria Klawe will be one of the special guests at the Perspektywy Women in Tech Summit 2023.
Interviewed by Magda Tytuła
What has been the biggest challenge in your academic career?
Changing the culture in science and engineering so that it supports women and members of other underrepresented groups. I've been the first woman in the positions I've held for 35 years, and I've often faced some resistance to my efforts to change the organizational culture.
Why do you think closing the gender gap in education in STEM fields is important?
There are three reasons. First, there are great careers waiting in STEM that pay well and make an impact on society, and women deserve these opportunities. Second, given the rapid growth in demand for skills in areas such as computer science, data science and artificial intelligence, it will be very difficult to meet this demand without increased female participation. Finally, third, research shows that diverse teams find much better solutions than homogeneous teams, and that women bring the diverse skills and perspectives that are needed to such teams.
Harvey Mudd College's current statistics are impressive in terms of women's participation in STEM fields (about fifty percent of computer science, engineering and physics students are women, compared to numbers ranging from ten to twenty-five percent when you became president of the college). How did you arrive at these results?
The first thing we did after I arrived as president at HMC was to launch an inclusive strategic planning process for the university, similar to the process we created at Princeton for the Engineering Department. At HMC, we held four full-day workshops in one week in October to which all faculty, students, staff, stakeholders, alumni and parents were invited. Almost all the lecturers and about a third of the students came. Each workshop began with a twenty-minute speech by a speaker, followed by a series of sessions in which participants in each group answered questions such as "what are the most important priorities for undergraduate education at Mudd?" or "how important should diversity be at Mudd?". The question about diversity was among the questions in all four workshops, and I noticed that in the first two workshops the answers were: "diversity is not important at HMC because we are a STEM-only education university, and women and people of color are not as interested in STEM."
And how has that changed?
The keynote speaker for the third workshop was Freeman Hrabowski, president of the University of Maryland, Baltimore County (UMBC). Freeman was the first black scientist to become president of a major research university in the US, and created the Meyerhoff Scholars program to recruit black students from Baltimore high schools into the intensive STEM undergraduate program at UMBC. Many graduates of this program went on to earn STEM doctorates at top universities and often accounted for more than half of the black STEM doctoral students in the US. In his speech, Freeman talked about his experiences growing up as a black child and about the Meyerhoff program. Many workshop participants cried during this speech. In the discussion sessions following the speech, participants committed to "unparalleled excellence and diversity at all levels at Mudd," and this became one of the six main themes of our strategic plan. This only confirms the truth that often a speaker from outside the organization is better heard by the community than someone from inside.
What steps did this plan include?
We made many changes in the way we recruit students, faculty, and stakeholders. We conducted extensive diversity training for all groups in our community, changed both the curriculum and didactics to make introductory courses more engaging, and added tutoring to all required courses in the core curriculum.
So how do you think the academic world can be changed, and how do you speak to the men who are in power?
In a situation where most professors and academic leaders are men, it is important to find male leaders who will strongly support the programs needed to attract and retain female STEM students and faculty. It is also necessary to look for female role models.
What activities to promote women in STEM make sense today?
Summer camps for female high school students, introductory university courses in fields such as computer science tailored to the different levels of knowledge of female participants, internships in the technology industry for female students in their first two years of college, and conferences for students that showcase female role models in technology can all be effective. It is also important to create a culture of cooperation rather than competition among STEM majors at universities. This helps all students be more successful and is especially effective in attracting and retaining female students.
What would you advise women who are blazing certain trails?
I find it helpful then to build good relationships with all possible people (peers, superiors, people who report to me, people in other organizations around the country and around the world) and to focus on being someone who works to enable the success of others. In the name of building a reputation as a good partner, others are willing to help you succeed.
Be positive and helpful to everyone you can convince of your idea, while openly working on the issues that limit the success of women in the organization.
How do you see opportunities for women to make an impact and change the world, especially in STEM fields?
Today is a very important time for women, when we can influence the future of our society through STEM fields. Technology is already changing every industry and the way we understand and address critical issues, such as climate change. In this regard, we need the perspectives, skills and talents of all sectors of society.
What would you advise young girls today who are just beginning their education/career in STEM fields?
Learn many different disciplines, because most of the exciting work you will do will be at the intersection of many fields. Accept this and the fact that you will be a lifelong learner. If you encounter difficulties in a particular subject, ask for help, work with other students on the material, and help other students yourself, because often the best way to learn something is to teach it to someone else. Motivate others when they experience self-doubt, and take to heart the words others use to motivate you. Don't be afraid of advances in artificial intelligence, robotics and automation, rather be prepared to work with these technologies.
A barrier often cited as hindering women's careers is balancing professional and private roles (family, motherhood). What advice do you have on this issue?
Based on my own experience, I advise women first of all to choose their life partners very carefully. In addition, I advise not to try to do everything at the same time. Choose a few things to focus on at each stage, and wait to tackle other challenges later.
Maria Klawe (1951) – mathematician and computer scientist, first female president of Harvey Mudd College, researcher and speaker speaking in favor of diversity in STEM at many international conferences in the US and Canada.
In her career, she was successful not only as a researcher (her interests included functional analysis, discrete mathematics, theoretical computer science), but also in administrative positions (before becoming first female president of Harvey Mudd College in 2006, she served the first female department head out of eleven in University of British Columbia Faculty of Science, first woman vice president and then the first woman dean of science UBC, and the first female dean of the Faculty of Engineering at Princeton University, among others) or in industry (she spent eight years at IBM's Almaden Research Center in San Jose, first as a researcher, then as head of the Discrete Mathematics Group).
She is the recipient of numerous awards and honors, including the 2014 Women of Vision ABIE Award for Leadership, a Lifetime Research Award from the Canadian Association of Computer Science (2015), an award from the American Association of University Women, the Computing Research Association's 2016 Distinguished Service Award, and an Academic Leadership Award from the Carnegie Corporation of New York (2017).